Join us for PUBLIC SKATING THIS weekend!!
Save time by pre-purchasing your tickets through the Ice Hub! 

Ticket price is $15 per skater, and includes skate rental, for all ages

.

Each session is 2 hours

Face Masks are mandatory on the ice

.
2 spectators per skater.

All skaters and spectators must check in at the door. Doors will open 25 minutes prior to the start of each session. 
Tuesday (6/15)
1:45-4:00pm
Thursday (6/17)
1:30-3:30pm
7:30-9:30pm
Friday (6/18)
8:00-10:00pm
Saturday (6/19)
1:30-3:30pm
7:30-9:30pm
Sunday (6/20)
1:30-3:30pm

Welcome to the Greensboro Ice House!
The Greensboro Ice House opened in the fall of 1997. We are located near the Wendover Avenue exit off of I-40.
We are a multipurpose organization open year round that offers skating to the public, youth and adult hockey, learn to skate classes, figure skating, birthday parties, day camps, group outings, broomball, and private rentals. Our facility is equipped with rental skates, a concession stand, four locker rooms with showers, a women's locker room, two multipurpose birthday party rooms, three birthday party booths, a mezzanine viewing area, and pro shop with skate sharpening. Our staff is excited to serve you!
We are the home of the Greensboro Youth Hockey Association, who offers learn to play hockey and house leagues; Triad Hockey Alliance, a joint venture between Greensboro Youth Hockey and Winston Salem Youth Hockey provides travel leagues for our youth. We are also the home of Summit Figure Skating Club.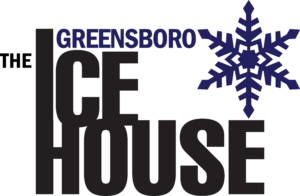 Check here for most recent updates on schedules and programming.
Wondering how we're keeping our skaters safe? 
Visit our COVID-19 Health and Safety page for more information.
Greensboro Ice House Closure Notice
The Greensboro Ice House is temporarily CLOSED TO THE PUBLIC. Select programs and camps are available on a pre-registration basis ONLY. Please check registration requirements on web pages applicable to your interest. Please continue to monitor this website, Facebook, and our other social media for further updates.