Summer Camp at the Greensboro Ice House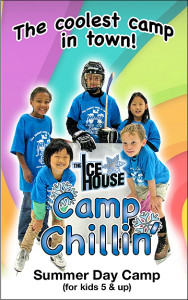 Camp Chillin is a week long day ice skating camp during the summer with activities on and off the ice directed by professionally trained educator, Cathryn McNamara .  The program runs from 8:30am to 5:00pm for full day campers and 8:30am to 12:30pm for half day campers.  Drop-off is available starting at 7:30am and pickup until 6:00pm.
The focus of the camp is on Ice Skating and the fun of playing on the ice and even learning new "tricks." We offer separate tracks for both figure skating and hockey.
The day is filled with ice skating, games, crafts, and a movie. Campers can look forward to skating with friends, arts and crafts, T-shirts and special treats.  The Greensboro Ice House is the coolest place to be this summer!
Summer Hockey Camp
Sport international will be hosting camp July 9-13.  This is their 20th year in Greensboro.  Brochures are located at the rink in the front office.  Click here for more info.
Cathryn McNamara
Camp Director
This is Cathryn's 10th summer as Camp Director. Her background is as a professional educator and trainer.  She has worked in the education field for more than 20 years, holds a Masters degree in education and is a National Board Certified teacher.  As an educator with the Guilford County Schools Cathryn teaches Early Childhood Education to high school students, works in elementary schools and early childhood education programs.  Cathryn's two daughters, Riley and Kelly, are alumni of Camp Chillin'.  She will provide our counselors with the training and guidance needed to make Camp Chillin' a memorable and positive experience for your child.
Questions?  Contact Cathryn today!
Enroll Online Today!
Please note we are currently working to update this online enrollment form. Please check back shortly.