Inside Edge Pro Shop
The Inside Edge Pro Shop is your one-stop hockey equipment, figure skating equipment and apparel shop. We pride
ourselves on customer service so if you need help any time of the day or evening just ask a Shift Manager for assistance. If we do not have an item you are interested in, we can get it for you!
The Greensboro Ice House offers professional skate sharpening. Sharpening can be done at your convenience. Sharpening costs $5.00 to drop-off, $6.50 for same day service, and $8.00 if you need them sharpened on the spot.On the spot sharpeners are typically here at all times. Drop off and pick up located at the front desk.
Email Matt Gilmore with any Proshop questions or requests.
Check out our Facebook page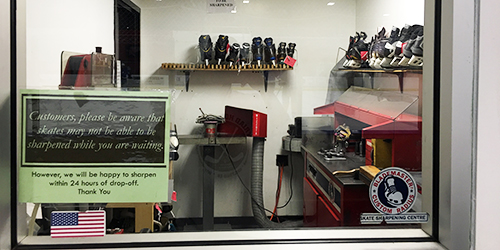 ---
Triad Hockey Team Order Form and Information
Order Your Triad Hockey Alliance Gear Today!
All THA Orders must be placed by JULY 1ST, 2019. Orders processed after July 1st are not guaranteed upon first delivery dates. Prices listed include sales tax.