Ice Hub users have reported a bug during the sticker purchase process. When attempting to purchase stickers, users are sometimes presented with an error message that states they did not sign a waiver (despite never being shown one).
The message looks like this: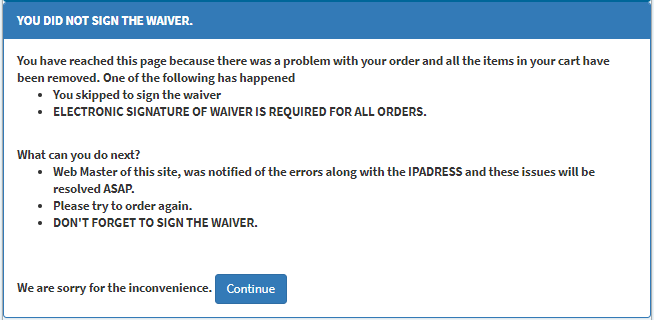 This is actually a bug that we've reported to our software company that they're trying to resolve. As of right now:
Log out, if you are not already logged out.

Click "Sticker Purchase", and click "Purchase" under your desired stickers. A prompt to log in should appear.

Log in, and fill out the waiver that pops up.

Continue as normal- put in the number of Sticker Sets  you would like to purchase and check out.
In short- you need to log in after you select the stickers you want to purchase. I apologize for the inconvenience, let me know if that works for you. Thank you for your patience!
Please note: If you are having additional trouble using a mobile device, please try to use a desktop computer or laptop to register instead.