Freestyle is coming to the Greensboro Ice Hub!!
Freestyle sessions are capacity-restricted due to COVID-19, therefore, all Freestyle skaters must be Freestyle 2021 Members in order to give session priority to in-house skaters. Skaters/parents of skaters will click the button at the bottom of this announcement to register for their Freestyle Membership, at no cost. When registering for freestyle sessions, only skaters that are approved members will be able to register. If you do not already have an Ice Hub account, we suggest visiting the Ice Hub first to create an account and grow familiar with it. 
In order to ensure session priority is given to in-house skaters, Skate Director Nicole is the only person who will distribute the membership link. Skaters and coaches may NOT give out this link without direct permission from Nicole.
All membership submissions must be submitted 24 hours in advance (or 48 hours on weekends). Our admin team needs to approve each registration. If you do not submit your membership registration on time, it will not be approved, and you will not be able to sign up for sessions. Please do not leave membership registration until the last minute!
Skaters will only have to submit this membership registration once, and then will be able to register for Freestyle sessions as normal. Freestyle stickers will now be available for purchase in the Ice Hub, under the "Sticker Purchase" button. Cancellations or session transfers will still need to be emailed to the admin team at gsoicehouse@gmail.com.
Please make every effort to register for your membership by 2pm on Friday, 1/1, so that our Admin team has time to process your submission. After your membership is accepted, you will be able to register for Freestyle sessions. The Ice Hub has Freestyle sessions listed for the entire month of January 2021. Skaters can scroll down to see the Freestyle Signup button, but they can also access it from the Freestyle page on our site at any time.
Scroll down for a step-by-step walkthrough on membership registration, or visit the Ice Hub guide for general instructions. 
Please email the admin team at gsoicehouse@gmail.com with any questions or problems! We're always happy to help.
In Summary:
If you have not already made an Ice Hub account, visit the Ice Hub to create an account, and then return to this page. If you have an account already, visit the Ice Hub, log into your account, and return to this page.
Click the button below to create your Freestyle membership. Please try to finish this by 2pm on Friday, 1/1.  Scroll down for a walkthrough. Do not provide this link to anyone else.
Once the admin team has approved your membership registration, you are free to register for sessions for the entirety of January. The registration link is below, but this will also be linked on the Freestyle page, as usual.
Stickers and session registration will all be conducted through the Ice Hub going forward. You must submit orders at least 24 hours ahead, so that our Admin team has time to process and prepare them.
If you need to submit a late registration for the week of 12/28-1/3, simply email our admin team at gsoicehouse@gmail.com.
Freestyle Membership: Step-by-step Walkthrough
Please note: It is easiest to register if you have already created an account on the Ice Hub and are logged in. Please visit the Ice Hub before proceeding to do so. If you are having trouble on mobile, please complete your registration on a computer browser instead.
When you click the button above, the waiver will pop up first. Review the waiver, fill in the skater's name, and click "agree".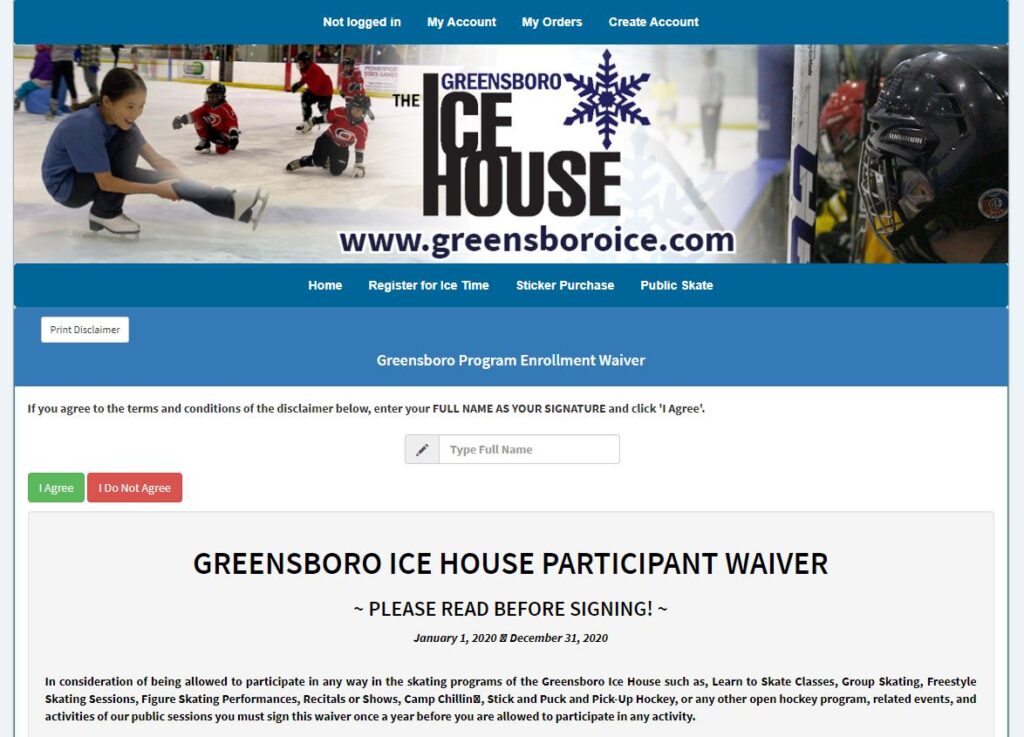 If you are logged in, your list of participants should be on the right. The Freestyle membership is already selected on the left, so you do not need to make any changes. 
Press the "Add to Cart" button on the right to proceed. There is no charge for membership registration.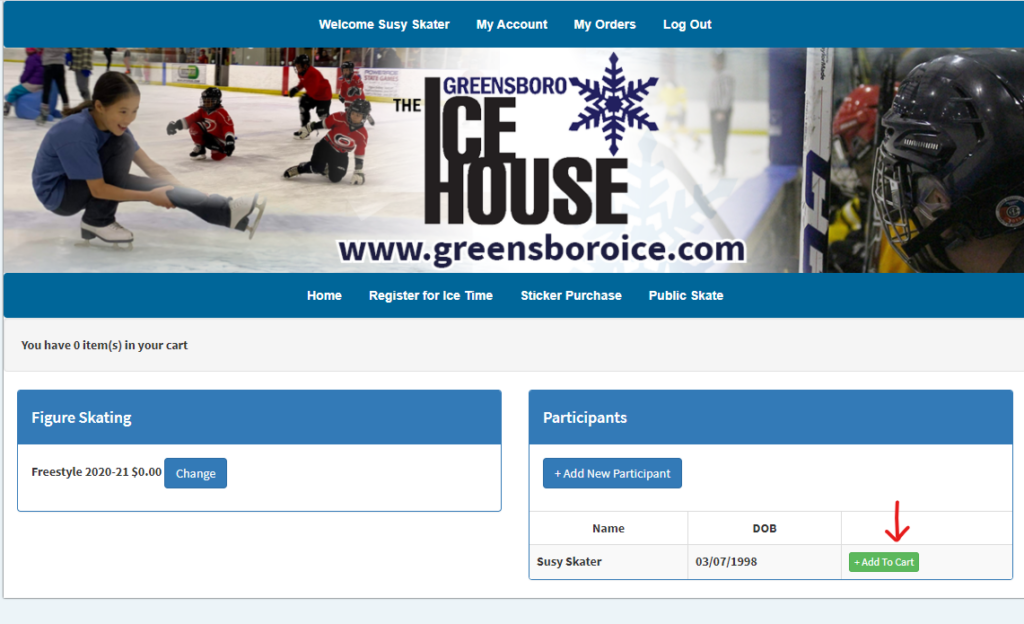 If you were not logged in, this prompt will appear instead. Click "Create Account" on the top menu to create an account if you have not already done so. Click "My account" at the top to log in as normal if you have already made an account.
Once you are logged in, return to THIS page, click the button to sign up for your membership, and proceed.

Once you have selected your skater's name (or multiple skaters, if you are a parent of multiple skaters who use Freestyle ice), click the "Checkout" button at the top to proceed.

When you hit "Checkout", a final screen will appear. This is your cart.
Make sure you have selected the correct skater's names, add a comment if needed, and click "Complete Purchase" to finish.
The Admin team will receive your registration and process it. Make sure to submit your membership registration on time, so that you can sign up for your Freestyle Ice Time.