USA Hockey Number:
ALL players will need a NEW USA HOCKEY NUMBER to register for the Fall 2021 season. USA Hockey numbers must be entered on the player's registration. Please visit www.USAHockey.com before registration if you do not have one.
REGULAR REGISTRATIONS: Dates and Fees

August 6th – August 22nd

Registrations will open on August 6th, 2021. ALL registrations are ONLINE ONLY.
Players with credits from previous seasons should add it in the comments section of their registration submission. Credits will be applied after registration is submitted. **Your card will be charged the FULL LISTED AMOUNT in a pending status until credits/discounts are applied.
Base price for a player's first team is $365 for the season. See price chart below for adjustments. If you are a captain, goalie, or first responder,  make sure to select the correct player type while registering.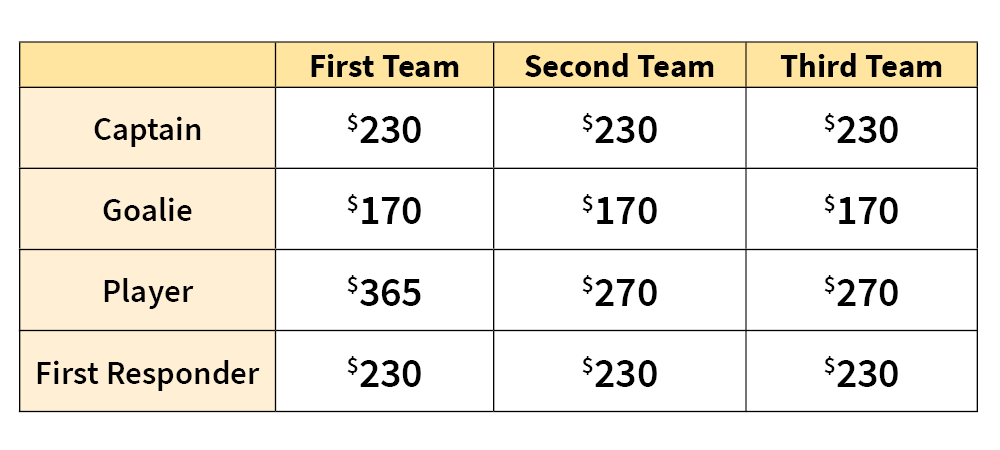 LATE REGISTRATIONS:
All registrations submitted August 23rd and after are subject to a 
$40 Late Fee.
***Players are not guaranteed roster spots on their desired teams if they register late. Please make sure to register on time.
Payment Plan:
Players have the option of registering with a payment plan.
$200 per team is due at registration.
Remaining balance due by October 11th.
An additional $40 service fee is added to standard league fees (included in initial $200 payment).
---
All players electing to do the payment plan are responsible for making their final payment before the deadline listed above. The Greensboro Ice House does not save and re-process credit cards from the original payment date. Failure to pay the remaining balance by the due date listed above may result in a suspension from league play.
Email the Hockey director at GAHLdirector@gmail.com for information about setting up payment plans.
Players wanting to use credits from previous seasons are still able to register with a payment plan.
Ready to register?
Click the button below to visit the Ice Hub, our skater portal.
All registrations are online only.
USA Hockey numbers must be entered on the player's registration. Please visit www.USAHockey.com to get a USA Hockey  number.
New players and players without a team should email Kevin at GAHLDirector@gmail.com before registering.

Questions? Comments?
Please email our Hockey Director, Kevin Dolansky, at GAHLdirector@gmail.com with all inquiries.
Leagues and Teams:
A LEAGUE:   Ducks | Yeungling Warriors | Havana Phils | Stingrays
B EAST:   Guns n' Hoses | Mustangs | Knockaround Guys | Pirates
B WEST:   Mighty Drunks | Dads of Hockey | Vikings | Yuengling Lite | Steamers | Penguins
C1 LEAGUE:   Benders | Jaguars | Chiefs | Jets
C2 LEAGUE:   Old Holes | Mavericks | Hammond Heroes | Redliners | Phantoms | Revenge
C3 LEAGUE:   Jets | Narwhals | Murder Hornets | Warriors | Wolves | Purple Cobras
40+:   Fire | Ice
D LEAGUE: D league will not be offered this season. A new Development Program will be offered in October. Stay tuned for details!